Bionic Women's StableGrip Natural Fit Golf Gloves - White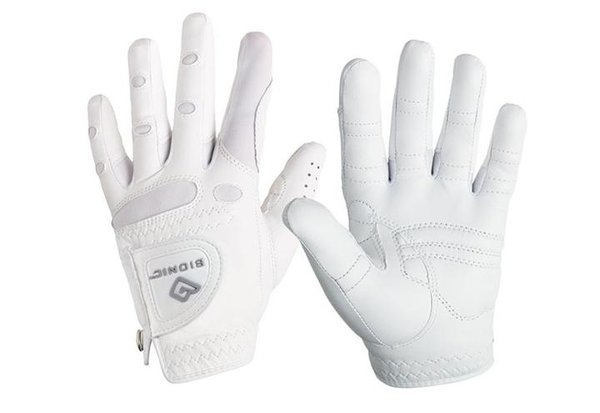 Bionic Women's StableGrip Natural Fit Golf Gloves - White
Bionic Women's StableGrip Natural Fit Golf Gloves
The "ONLY" Golf Glove Designed by an Orthopedic Hand Specialist
Designed For Women
Not just a smaller size! Gloves are cut for the anatomical specifications of female hands.
Better Grip & Control
Anatomical relief pads promote a lighter, more relaxed grip which helps increase swing speed and prevents the club from twisting at impact for more control.
Natural Dexterity & Cool, Dry Hands
Motion zones over the knuckles and web zones between the fingers promote natural movement and help hands "breathe."
Second Skin Comfort
The combination of the pre-rotated finger design and top-grade cabretta leather helps the glove feel and fit like second skin.
Long-Lasting Durability
Bionic lasts up to 2-3 times longer than traditional leather golf gloves!
---
This Product ships directly to you from Robert's Golf Shop, Aberdeen, North Carolina
---
Bionic Gloves Sizing Guide
To find your Bionic glove size, measure (in inches) around your glove hand (dominant hand when ordering pairs) with a tape measure at the points indicated on the diagram below. Now that you found your tape measurements, use the table to the right to determine your glove size. If your hand's circumference is larger than the length, order a size up to ensure a better fit.
If you need additional assistance on glove sizing, feel free to reach out to us. We can be called at (877) 524-6442 or emailed at bionic@bionicgloves.com to answer any questions.
**Cadet Men's Golf Glove sizing is available in left-hand only in the following sizes: Medium, Medium/Large, Large, and XL.
Reviews