Bionic Men's StableGrip Natural Fit Golf Gloves - White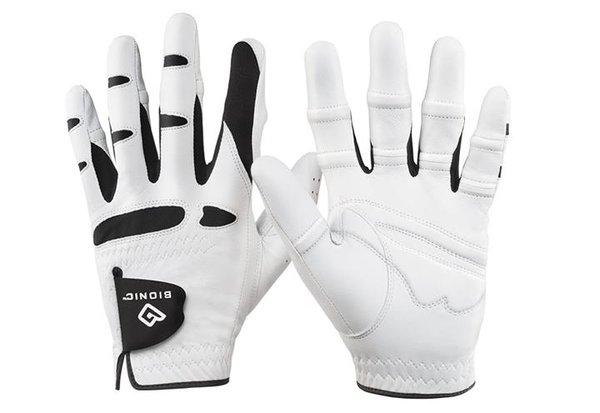 Bionic Men's StableGrip Natural Fit Golf Gloves - White
Bionic Men's StableGrip Natural Fit Golf Gloves

Bionic StableGrip with Natural Fit
The new Bionic StableGrip Golf Glove with Natural Fit features enhanced three-dimensional finger pads and a tapered finger design to conform to the natural shape and contours of your hand anatomy for better grip, comfort and durability. The Lycra gussets and web zones eliminate bunching of leather between the fingers and give a more natural, "broken-in" fit and feel. Bionic patented pad technology provides a stable, yet relaxed grip to keep the club from twisting at impact, resulting in more confidence with each shot.
Features:
Three-dimensional pads wrap around the sides of the fingers to even out the surface between fingers as well as the palm side for a more stable grip on the club.
Bionic patented pad technology increases the durability of the glove and also helps to retain the "new glove" feel round after round—2X more durable than a standard leather golf glove while maintaining grip effectiveness.
Tapered finger design conforms to the individual shape of your fingers for a more natural fit.
Enhanced index finger tip helps with stability and durability in an area prone to wear and tear.
Lycra gussets, web and motion zones minimize bunching of leather for better range of motion, fit and feel.
Patented pre-rotated finger design complements natural closure of the hand and helps reduce fatigue.
Mini-towels inside provide superior moisture management to keep the hand drier and more comfortable.
Easy grab tab makes glove removal simple and quick.
Washable Cabretta leather for enhanced feel and durability.
Sanctioned for use under USGA guidelines.
---
This Product ships directly to you from Robert's Golf Shop, Aberdeen, North Carolina
---
Bionic Gloves Sizing Guide
To find your Bionic glove size, measure (in inches) around your glove hand (dominant hand when ordering pairs) with a tape measure at the points indicated on the diagram below. Now that you found your tape measurements, use the table to the right to determine your glove size. If your hand's circumference is larger than the length, order a size up to ensure a better fit.
If you need additional assistance on glove sizing, feel free to reach out to us. We can be called at (877) 524-6442 or emailed at bionic@bionicgloves.com to answer any questions.
**Cadet Men's Golf Glove sizing is available in left-hand only in the following sizes: Medium, Medium/Large, Large, and XL.
Reviews