At Robert's Golf Shop we offer:

Club Repair / Custom work
Fittings
Buying an expensive golf club or set of clubs is like buying a suit at the department store. It almost never fits just right off the rack and needs tailoring. Buying golf clubs is the same (except much more important, of course)!!
We can't over-emphasize how important it is that your golf equipment be dialed in for your swing, your physique and athletic capabilities or handicaps. You would be amazed at how much difference even a small adjustment can make in your shot-making, scoring and enjoyment.
Our motto at Robert's Golf Shop is "It's All About Your Game". It's a motto that we take seriously.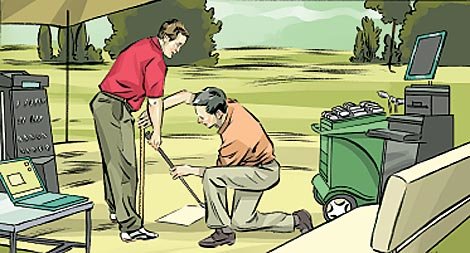 When you are ready to purchase golf clubs from us, one of our experienced club-fitters will give you the benefit of our 30 years of experience. We will focus on the type of head you have selected, shaft flex, swing weight, shaft weight, shaft length, flex point, loft and lie angles, grip size and more.
It takes some effort on your part to supply accurate information and a little longer to get your clubs but we think you will be very pleased at the results!
If you have any questions about this service, give call us (800 483-8254). We'd be happy to talk with you.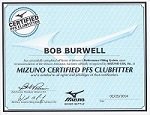 Consignment Program
When you are ready to turn your old clubs into cash, we will gladly take them on consignment and sell them for you. We have one of the largest, if not the largest, golf club consignment businesses in North Carolina and you can be assured that your clubs will receive tremendous exposure in our store and on our web site. We enjoy and excellent "sell rate" on consignment clubs.

Compared to other consignment shops are fees are extremely low - as little as 30%.
When we receive your clubs, they will be evaluated and priced based upon the going rate for clubs in similar condition. Within a few days of receipt, you will receive an email detailing your clubs and the asking price. If you disagree with our valuation, we will be happy to adjust the price as you request.

When your club sells, you will be notified via email. Store credits will be posted to your account. Checks can be picked up at our sales desk or mailed to you.
Club Repair / Custom Shop
Robert's Golf Shop has a fully equipped custom shop staffed by a highly experienced club fitter and club repair technicians. We'll be happy to adjust your lofts, lies, lengths and grips to your personal specifications. The senior club fitter will be happy to discuss how your clubs might be set up to best suit your game. Minor adjustments and all fitting consultations are made without additional charge. We will let you know in advance of any applicable charges.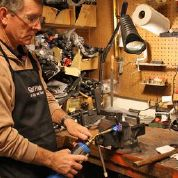 Please call or email Bob Burwell at 800 483-8254 (toll free) or 910 944-3633 (local) or sales@robertsgolf.com for further information on custom work.
Owner Bob Burwell in the Custom Shop