The Golfer's Buddy "Plus" Bag w/ Carry Strap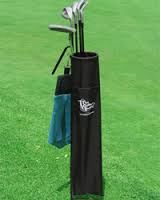 The Golfer's Buddy "Plus" Bag w/ Carry Strap
A must have in golf carry bags!
What is it ??

 Watch this short video clip to see this ingenious bag work. 
The Golfer's Buddy is very useful when golf carts are not allowed off the path. The sign reads, Keep carts on Path. You realize you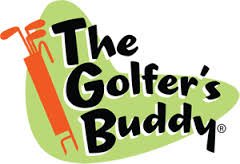 need a different club. Do you walk back to the cart and get it? Probably not if you're trying to keep the pace of the game going! So, you use what you have with you, then curse yourself after you make a bad shot. Or how about this scenario…..there is dew on the ground and you lay your putter down while using your pitching wedge. When you pick up your putter it is all wet, including wet grips, and you have to wipe it off on your clothes. Not if you have the Golfer's Buddy!!
We sell the Golfer's Buddy with the "Plus" ring and a carry strap!
---
Need personalized golf gifts??  The Golfer's Buddy golf bags are available with your company logo or other graphic design screen-printed onto the pocket of the bag. The 5 1/2″ x 8 1/2″ pocket is ideally designed for custom screen printing of your logo.
The Golfer's Buddy golf bags make unique golf gifts, affordable personalized golf gifts, as well as great golf tournament prizes or corporate promotion giveaways.  Minimum order is only 6 bags (black / blue / pink only).  Please call 800 483-8254 or Email for details.

---
This product ships directly to you from Robert's Golf Shop, Aberdeen, North Carolina.  Special order logo bags ship from manufacturer.

Reviews